The ANDREA Project started!
The EU Project Active Nanocoated DRy-electrode for Eeg Applications (ANDREA – http://cordis.europa.eu/projects/rcn/109927_en.html) started on Jan 1st, 2014.
The kick-off meeting was held on Jan 29, 2014, in Beaune, France, on the occasion of the Burgundy Neuromeeting organized by ANT.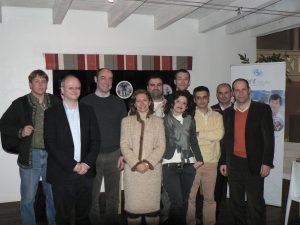 The ANDREA Project, coordinated by the Director of the BIND Center Prof. Silvia Comani, has a 4 years duration and is funded under the Marie Curie action PEOPLE, dedicated to promote industry-academia collaborations and research mobility (FP7-PEOPLE-2013-IAPP).
The ANDREA Project will be dedicated to the development of a novel dry electrode EEG system with adjustable cap network provided with an automated sensor positioning mechanism, active preamplification and a SW toolbox for artefacts removal. The novel technologies address the requirements of high signal quality and reliability, mobility, high patient/subject comfort and long-term use, and will be validated in clinical and non clinical populations to produce a prototype optimized for broad EEG employment.
The ANDREA consortium is made of 5 partners, who are from both the public and the private sector.
The following Universities participate in the ANDREA consortium:
BIND – Behavioral Imaging and Neural Dynamics Center

(www.bindcenter.it) dell'Università "G. d'Annunzio" di Chieti-Pescara (

Primary Coordinator

– Chieti, Italy)

Technische Universitaet di Ilmenau (Ilmenau, Germany)

Universidade do Porto (Porto, Portugal)

as well as the following private partners:

EEMAGINE MEDICAL IMAGING SOLUTIONS GMBH (Berlino, Germania)

CASA DI CURA PRIVATA VILLA SERENA DEL DOTT. LEONARDO PETRUZZI SRL (Città S.Angelo (Pescara), Italia)
The ANDREA Project includes the possibility for the researchers participating in the project to spend periods of mobility at partner Institutions. Dedicated training courses will be organized in order to promote intersectoral transfer of knowledge among partners. The participation into international conferences and the practice of outreach activities will be also promoted.