The EMBRACE Project started!
The EU Project tEchnology for Multimodal inter-BRain dynAmiCs invEstigation (EMBRACE – https://cordis.europa.eu/project/id/101007521) started on Feb 1st, 2021.
The EMBRACE Project, coordinated by the former Director of the BIND Center Prof. Silvia Comani, has a 4 years duration and is funded under the Programme H2020-EU.1.3.3. "Stimulating innovation by means of cross-fertilisation of knowledge", funding scheme MSCA-RISE – Marie Skłodowska-Curie Research and Innovation Staff Exchange (RISE).
EMBRACE merges complementary expertise and resources in biomedical engineering, material science, signal processing, neuroscience, and social psychology at 3 academic and 3 industrial partners from 3 EU countries (Italy, Germany, and Spain) to develop:
a new mobile and wireless dry electrode EEG system suitable for monitoring brain activity during full body movements;
Novel body-network sensors and a multimodal alignment system for the simultaneous recording of neural, physiological and kinematic signals from two interacting subjects;
Novel analytical solutions for motion artefact removal and multi-level analysis of multimodal data;
A new research dyadic paradigm to exploit the technological advances.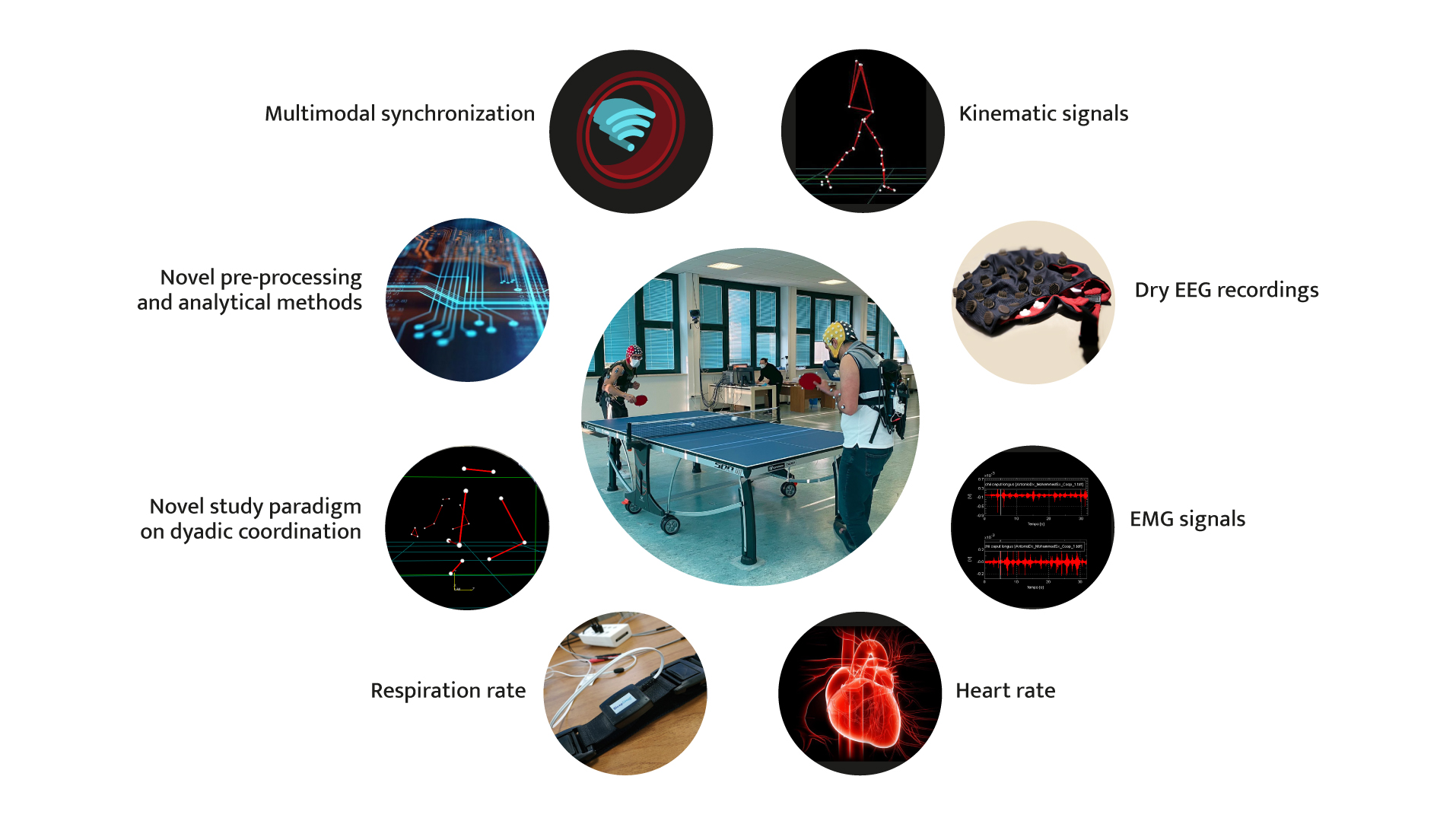 The following academic participate in the EMBRACE consortium:
Behavioral Imaging and Neural Dynamics (BIND) Center,
University "G. d'Annunzio" of Chieti-Pescara (

Primary Coordinator

– Chieti, Italy)
Institute of Biomedical Engineering and Informatics
Technische Universitaet di Ilmenau (Ilmenau, Germany)
Laboratory of Computational and Cognitive Neuroscience (LCCN),
Complutense University of Madrid (Madrid, Spain)
as well as the following industrial partners:
BTS Bioengineering SpA (Milan, Italy)
eemagine Medical Imaging Solutions GmbH (Berlin, Germany)
BRAINVESTIGATIONS S.L. (Madrid, Spain)
To read more about EMBRACE project, visit the website.